Dr. Daniel Mullenbach, D.D.S.
Over 30 Years Of Providing Dental Health Services to the La Crosse Community: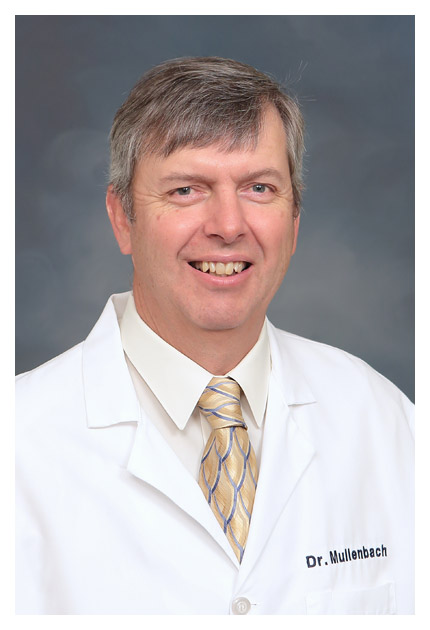 Dr. Daniel Mullenbach D.D.S. is the owner of Mullenbach Dentistry.
For more than 30 years, Dr. Mullenbach has been providing dental health services for the La Crosse community, and the larger Coulee Region.
When Dr. Mullenbach opened his practice he had a wide variety of business names he could choose from. Rather than call his practice a generic or geographic name, he decided to put his own name on the door, and on everything Mullenbach Dentistry does and stands for. "Ultimately, I am the one responsible for each and every patient's dental health who we see.", says Dr. Mullenbach. "It's a matter of pride, and also great responsibility. We are not a corporation, or a franchise, or a satellite office of a larger group. We are a private, La Crosse based General Dentistry practice. We are from here, we live here, and we are here to serve our neighbors, friends, and the people of the Coulee Region."
Personal History:

Dr. Mullenbach is a native of La Crosse, Wisconsin

Education: Graduated from Marquette University School Of Dentistry in 1981

Continuing Post Graduate Training: All aspects of General Dentistry, including
Orthodontics
Endodontics (Root Canal Therapy)
Implants
Cosmetic Procedures
Periodontal Maintenance (Continuing Care Of Gums)

Began Mullenbach Dentistry in 1981

Honors: Member of the American Dental Association and the Wisconsin Dental Association

Family: Dr. Mullenbach has been married for 32 years, and has two children.
"In His Own Words": What Makes Mullenbach Dentistry Unique?
"La Crosse is my hometown, and I truly love the area, and especially the people that live here. I try very hard to get to know each and every one of my patients and strive to make their experiences in my office a positive one. When you get to know someone, you can't help but care about them and their well-being. My staff and I truly do care about our patients and want to make each and every one of them feel at ease. We try to treat everyone in a way that we would want to be treated ourselves. Our entire goal here at Mullenbach Dentistry is to provide the highest quality family dentistry in a comfortable and friendly environment."

- Dr. Daniel Mullenbach, D.D.S.