Endodontic Therapy (Root Canal Treatment) Provided by Mullenbach Dentistry of La Crosse
Mullenbach Dentistry: Root Canal Treatment, or Endodontic Therapy
Root canals get a bad rap. Literally! And frankly, a "bad rap" is oftentimes the reason why a root canal, or Endodontic Treatment, needs to be performed. A sharp blow to the tooth, or tooth disease, can result in this kind of treatment being a necessary step. But when this treatment is performed by Mullenbach Dentistry, the results can be pain free and the tooth saved.
Endodontics by Mullenbach Dentistry
Root Canal Treatment, or Endodontic Therapy: Pain Free, and The Tooth Is Saved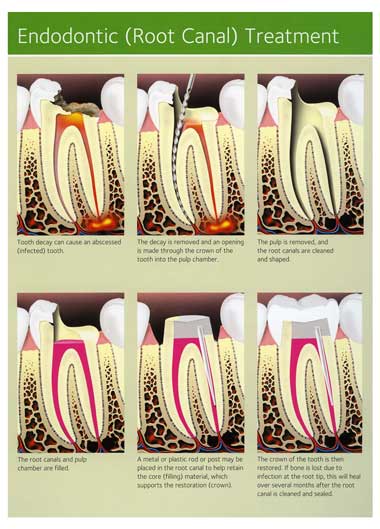 Endodontic treatment by the trained and experienced endodontic dentist at Mullenbach Dentistry becomes necessary when the dental pulp inside a tooth becomes inflamed or infected as a result of deep tooth decay, repeated dental procedures on the tooth, or a crack, chip or other injury to the tooth.
Signs and Symptoms of that You May Need Endodontic Therapy

If you feel you have these symptoms, it is best to first schedule an examination with Dr. Mullenbach to make a thorough examination and analysis. Those symptoms and problems can include the following:

Significant tooth discomfort or pain

Prolonged tooth sensitivity to hot and cold

Gum tenderness to the touch and when chewing

Swelling

Tooth discoloration

Drainage and tenderness in the lymph nodes, jaw bone and gingival tissues
If you have any of these symptoms, please contact us immediately.
What is Endodontic Therapy, and a Root Canal?

Endodontic procedures are used to alleviate pain associated with the inner tooth pulp, and the area just outside or around the root of the tooth. Pulp therapy is a common procedure performed by Mullenbach Dentistry in which the dental pulp of the tooth is removed from the tooth chamber. The exterior of the tooth remains unchanged.
Endodontic treatment is also necessary for the surgical removal of diseased or abnormal tissues, the repair of cracked teeth, or the replacement or replantation of teeth knocked out by an injury.
If you are experiencing any of the symptoms mentioned above, it is urgent that you contact us as soon as possible for a diagnosis by Dr. Mullenbach. This is not a a problem that will simply "go away" or "get better", but will only worsen over time.