Preventative Dentistry Services Provided by Mullenbach Dentistry of La Crosse
Preventative Dentistry Services
Benjamin Franklin said, "An ounce of prevention is worth a pound of cure." No truer words have ever been spoken when it comes to your personal dental health. Your natural teeth and gums cannot be replaced, except through cosmetic dental surgery. That "pound of cure" would not be necessary for many people if they took the time to work hand-in-hand with their dental healthcare professional at maintaining what they were born with.
Mullenbach Dentistry Works Together With You On Your Dental Health
PREVENTATIVE DENTAL HEALTHCARE: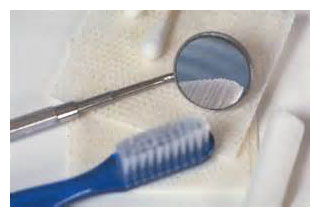 The steps to maintaining your teeth and gums are easy to do. All they require is a little bit of your time. Unfortunately, too manhy people simply don't take the time to maintain their dental health. The result is that prevention turns into replaceme

Mullenbach Dentistry works with you to avoid this kind of outcome by partnering with you on a regular basis to provide you with the tools, techniques, and regular checkups to maintain and enhance what you already have. By working with us, and doing your part, you can keep that beautiful smile for years and decades to come!
Schedule Semi-Annual Checkups with Mullenbach Dentistry:

It's very simple. Just schedule your appointment with us at six month intervals. That way, we can catch any small problems before they become big ones. These checkups are normally covered under a typical dental healthplan insurance policy, less your deductible and co-pay amount, if applicable. Every six month checkup includes:

A Blood Pressure Check (Yes, blood pressure can affect your dental health!)

Digital X-Rays of your teeth and gums

Cleaning your teeth of built up tartar, plaque and stains

Professional dental cleansing of your teeth

Recommendations from the Hygenist on cleaning techniques you can put to use right away

A check of your teeth, mouth and gums by Dr. Mullenbach

An examination of your X-Rays by the Doctor, and a comparison with your previous X-Rays

Consultation with Dr. Mullenbach on his findings, and recommendations to enhance your dental health

Recommendations from the Doctor on any further professional dental measures that you should consider to resolve any dental health problems
We'll Do Our Part. But You Must Do Your Part!:
Maintaining good dental health requires you to do your part each and every day. This isn't anything out of the ordinary. But it does mean that you need to take the time and make the time for good oral health. This includes:

Proper brushing of your teeth and gums at least twice a day, and preferably after each meal

Flossing your teeth to remove any food material that may be lodged between the teeth

Using a rubber tipped dental tool to remove any food particulates from the gumline which can lead to gingivitus, or gum disease

Using a mouthwash product to rinse your mouth (We can suggest several products for you)

Rinsing your mouth or brushing your teeth after eating or drinking products that have a high sugar content

Maintaining a healthy diet that includes the proper balance of vitamins and minerals