Mullenbach Dentistry of La Crosse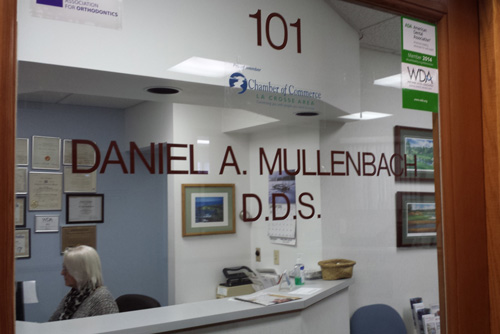 For over 30 years, Mullenbach Dentistry has focused on one thing; the dental health and best possible dental care of every patient who comes to us.
Whether it's a simple checkup and cleaning to make certain a problem isn't occurring, to significant restoration, orthodontics, or implants, Mullenbach Dentistry is a recognized authority in General Dentistry in the La Crosse area. And we put those 30 years of experience and knowledge to work with a caring and gentle approach to every patient we see.
Our goal is not to "tell" you what to do, but to give you options, provide solutions, and then set about taking care of what nature has given you.
If you are considering becoming a new patient of ours, we welcome the opportunity to talk personally with you about your concerns, and answer any questions you may have.
If you are already a patient of ours, we are honored that you have chosen to have us take care of your dental health. And we invite you to find out more about the expertise we have in a wide variety of General Dentistry services we provide on a daily basis by simply clicking through our website.
As always, we invite you to contact us:
Telephone: (608) 782-6616
E-Mail: Please Use Our Contact Page
In Person at: 201 South 7th Street, Suite 101, La Crosse, WI 54601
Mullenbach Dentistry.
Experienced. Local. Family Oriented. And Your Best Choice For Dental Health.