Mullenbach Dentistry of La Crosse Professional Staff
The Professional Dental Staff La Crosse Turns To For General Dentistry and Dental Health: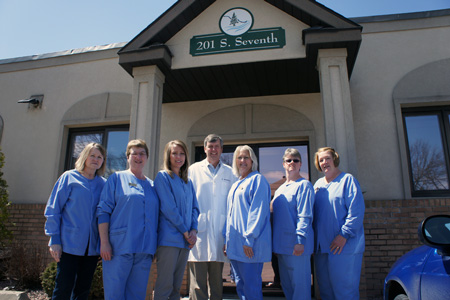 Any organization is only as good and as professional as its staff.
That is why Mullenbach Dentistry of La Crosse is so highly regarded not only by the American Dental Association and the Wisconsin Dental Association, but by the most important people of all; the patients who come to us as their preferred provider for their continued dental healthcare.
From the moment that Karla greets you at the door, to the time you spend with your personal dental hygienist, to your checkup and dental health discussion with Dr. Mullenbach, you are regarded as the most important person in our office. It's part of our professional staff's culture, and what we do every day.
Mary: Registered Dental Hygienist (RDH)
"I am a Registered Dental Hygienist. I graduated from Milwaukee Area Technical College and have worked as a Dental Hygienist for over 30 years.

I enjoy getting to know our patients and making their experience at Dr. Mullenbach's office a pleasant one. My goal is to provide each patient with preventive care that promotes oral health to meet their individual needs.

As for my personal time, I simply enjoy the beauty of the bluffs and countryside, hiking and biking throughout the Coulee Region."

Judy: Dental Hygienist
"I have worked for Dr. Mullenbach since 1999. I like working for Dr. Mullenbach because he is an excellent dentist who truly cares about his patients. We all work very well together as a team, which makes coming to work very enjoyable.

Besides my duties as a dental hygienist, I feel patient education is very important. Giving the patient the knowledge and the tools to maintain or improve their oral health is extremely important.

I graduated from North Central Technical College in 1982 with an associate degree in dental hygiene and have been working every since, with the exception of a two year break when we moved to the La Crosse area. I moved here with my family in 1995 from the Milwaukee area. I love living here. The people are friendly, the area is beautiful, and there's so much you can do here. I enjoy spending time with my family camping, fishing and playing cards."
Karla: Business Manager and Office Manager
"I attended college here in La Crosse and graduated as a Certified Dental Assistant. I began working for Dr. Dan in 1993. In January of 1996 I changed positions here and became the Business and Office Manager. I am CPR certified and attend OSHA training and continuing education classes.

I am the one who greets you at the front desk. I will help you make payment plans if necessary and schedule appointments as needed. I enjoy getting to know each and every one of our patients and try to make your visit in the front office as pleasant as possible.

I love my job and working for Dr. Dan. He is a great dentist who is friendly and really cares for each and every patient. He takes the time to get to know you and strives to make you as comfortable as possible while providing the best oral health care for everyone in his practice. He has also volunteered his time in dentistry outside of the office which shows his passion for his profession and that he truly cares for this community."
Jan: Certified Registered Dental Assistant (CRDA)
"I attended college in Minneapolis, Minnesota and graduated as a Certified and Registered Dental Assistant with an associate degree. I am CPR certified and attend continuing education classes. I moved to La Crosse in 1994 and began working for Dr. Mullenbach in January, 1996.

I love working for Dr. Dan and think he has surrounded himself with a great team. We strive to make each and every patient comfortable and at ease in our office as well as provide exceptional dental healthcare to all patients. We all genuinely care about each and every one of our patients!!

In my free time I love to spend time with friends and family. I am blessed to have five grandchildren that keep me young. I love spending time outdoors, camping boating, gardening, traveling and I can't think of a better area to live and work."
Sandy: Dental Assistant
"La Crosse is a great place to raise a family and enjoy the outdoors, something I really love to do.

I also really enjoy the work that I do as a Dental Assistant with Dr. Mullenbach, and have since 1985.

I went to school at Western Technical College and received my certification as a Dental Assistant there. I also have CPR training and, of course, there is always continuing education to stay on top of the latest techniques and breakthroughs in my field.

The thing I enjoy most about my work as a Dental Assistant is educating people about the importance of dental health, and how affordable and comfortable dentistry can be when it's provided by a team of people who are kind and caring. Like the team we have at Mullenbach Dentistry."
Kathy: Registered Dental Hygienist (RDH)
"My duties include updating a patient's medical history, dental prophylaxis (cleaning), diagnostic x-rays, sealants, root planning and curettage, and teaching proper dental home care. My father was a dentist in La Crosse and that is how I became interested in dentistry. I received my Bachelor of Science Degree in Dental Hygiene from the University of Iowa and have been practicing in La Crosse ever since.

I started to work for Dr. Mullenbach in 1987. I have worked for many dentists throughout my career and Dr. Mullenbach is the best dentist I have worked for (except for my dad, of course!) He is very friendly and down to earth. He explains the patient's dental needs very thoroughly to them. He will give them options to choose from whenever possible.

I have always loved my career choice. I meet people from all walks of life and build long term relationships with them. I enjoy meeting new people, helping them feel comfortable and at ease while in the dental office. I enjoy teaching and encouraging patients to develop good dental health habits and a healthy mouth. A healthy mounth is a healthy body! It is very rewarding to see the patients keep improving their oral health at each visit. Sometimes, I learn just as much from my patients as they learn from me.

I grew up in La Crosse and spent many summer days camping and water skiing on the Mississippi. My family still enjoys summertime on the river, boating and fishing. I also enjoy a big garden, with plenty of vegetables to share and can. La Crosse is a beautiful area to live in, offers to much to do and see, and very friendly people to meet and get to know."