Prosthodontic (Restorative) Dental Treatment
Provided by Mullenbach Dentistry of La Crosse
Mullenbach Dentistry: Prosthodontic Treatment
Dr. Mullenbach, one of the most experienced dentists in prosthodontist care in the La Crosse area, performs what can only be described as the most advanced form of sequential treatment, restorative treatment, and dental maintenance. Prosthodontic Dental Care includes reconstructive dentistry, repair of failed treatments, damage due to oral trauma, neglect, and advanced dental care for anatomical features of the teeth, gums and supporting bone structure.
Prosthodontists: The "Dental Architect"
Mullenbach Dentistry Works Closely With You To Restore Your Dental Health.

Prosthodontists like Dr. Mullenbach are often referred to as a "Dental Architect" because of the complexity of this treatment. The "architecture" we are referring to involves a very similar process of evaluation, design, consultation, and reconstruction to restore your dental longevity, functionality and esthetics.
Types of Prosthodontic Treatments Performed by Mullenbach Dentistry of La Crosse

There are a number of different treatments that can be performed by Dr. Mullenbach and his staff depending upon the evaluation of your dental health, Dr. Mullenbach's analysis, and what you as the patient feel is the best way to proceed: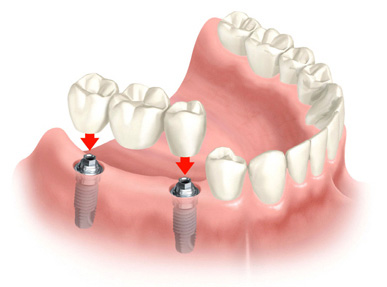 Esthetic Reconstruction
This is considered to be the most advanced approach to restoring the dental health of patients who have one or more sections of teeth that are missing. Esthetic reconstructive dentistry involves utilizing the the existing bone structure and dental implantation.

Dental Veneers and Bonded Restorations
Patients who have chipped or cracked teeth, excessive dental wear and tear on their teeth, or severe discoloration can benefit from this treatment, resulting in well shaped teeth and a bright, white smile.

Ceramic and Metal Ceramic Dental Crowns
Typically lasting up to 10 years, crowns can be shaped to resemble the natural appearance of the rest of the teeth you have, and so they are very esthetically pleasing. Crowns are used to permanently "cover" the existing tooth.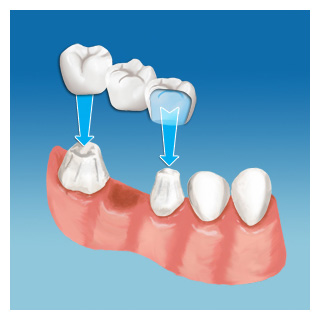 Dental Bridges
A dental bridge is used to replace missing teeth. A bridge can be supported by another tooth or teeth, or supported by an implant. A dental bridge is a replacement for a removable partial denture.

Dentures
There are a number of different kinds of dentures based upon the patient's dental health and existing teeth. Complete dentures are created for those who have lost all of their teeth due to trauma, or poor oral hygiene. Partial dentures can either be fixed, or they can be removable. As in dental bridges, fixed partial dentures rely on supporting and existing teeth and are permanent. Removable partial dentures also rely on supporting teeth, but can be removed.
TMD, Sleep Apnea and Snoring Disorder are also part of Prosthodontic Treatment from Mullenbach Dentistry

TMD, which are jaw problems caused by a joint disorder, snoring and sleep apnea, and reconstruction from oral surgery are also treated by Mullenbach Dentistry and Dr. Mullenbach. Dr. Mullenbach is highly skilled at addressing these issues with a treatment plan designed specifically for you.
If you would like to know more about the Prosthodontic Treatment we provide at Mullenbach Dentistry, we would be pleased to meet with you. Simply use our contact page to reach us, or call us for an appointment at (608) 782-6616.