Real Authentic Barbeque Dinner From Yummy Bones Barbeque!
Dine In or Grab and Go!
Dinner Is Served at Yummy Bones Barbeque!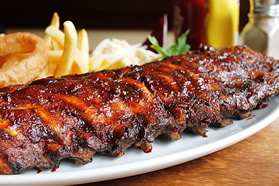 Oh My! Dinner at Yummy Bones Barbeque!
Let's get started with slow cooked smoked chicken wings, then roll up to the main course with baby back ribs or St. Louis Style Ribs. Or take it all with our Sample Platter of Pulled Pork Slider, Beef Brisket, Ribs and 2 choices of sides.
Speaking of sides, order our famous Mama Louise's Mac and Cheese, Cowboy Potatoes, Southern Baked Beans, Homemade Green Bean Casserole, and a whole lot more!
Then there's our "Bad To The Bone" sandwiches!
And then there's dessert! Like our special Sweet Potatoe Pie, Pecan Pie, or Red Velvet Cupcake. That's a great end to the evening!
The Real Deal homemade BBQ is waiting for you at Yummy Bones!
You can pick it up with free 15 minute parking right outside our restaurant, or dine in and take your time in our casual southern style atmosphere.
Open 11AM to 8PM, Tuesday Through Saturday, Sundays 11AM to 3PM.
Call Us Now To Place Your Order. (262) 268-9221
Yummy Bones.
Real. Authentic. Barbeque.