Authentic barbeque lunch is served daily at
Yummy Bones Barbeque!
Dine In or Grab and Go!
Lunch is never boring at Yummy Bones Barbeque!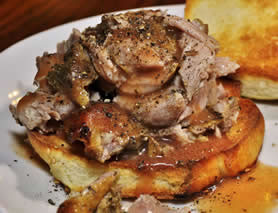 You can pick it up with free 15 minute parking right outside our restaurant, or dine in, and take your time in our casual atmosphere.
Let's get it going with our signature Smoked Beef Brisket on a Kaiser Roll or Texas Toast, or our Smoked Pulled Pork, pulled to order. Try our Signature Sloppy Pig, a combination of baby back ribs, St. Louis style ribs, and pulled pork, slathered in our Siignature BBQ sauce.
Grab a side item for free. Like Cowboy Potatoes, Southern Baked Beans, our House Cole Slaw, Green Bean Casserole, and more.
You'll never go away hungry when you have lunch at Yummy Bones Barbeque!
Call ahead for your order for the family or the office, and we'll have your barbeque ready and waiting for you!
And don't forget the sides!
Open 11AM to 8PM, Tuesday Through Saturday, Sundays 11AM to 3PM.
Call Us Now To Place Your Order. (262) 268-9221
Yummy Bones.
Real. Authentic. Barbeque.