Yummy Bones BBQ
Real. Authentic. Barbeque!
c'mon in!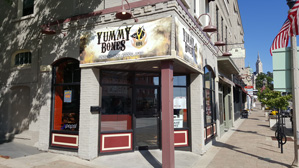 Robert Meredith
Head Chef, Owner, and
King Of The Barbeque
Take a generations old family recipe for seasonings and sauce, add a man with a passion for barbeque, and you've got smokehouse barbeque that you'll never forget!
Read more
real BBQ!

"Best Q this side of Nashville! Haven't found anything better than Yummy Bones yet."

Phillip
Yummy Bones Devotee
"Outstanding BBQ! The brisket was so tender and seasoned to perfection. Baby back ribs were Memphis quality but now we don't have to go as far!"

trip advisor
certificate of excellence
Yummy Bones Is Trip Advisor's
4 star restaurant!

Sheboygan Press
Dining Review
"If you want to truly experience a southern backyard barbecue, Yummy Bones is a place to bring your friends and family."
We Cater!
Let's Get The Party Started!
There's Nothing Like Authentic BBQ!
Whether it's a party of 10 or 2,000, invite Yummy Bones Barbeque! For business gatherings, celebrations, graduations, recognition dinners, fund raising events, or any reason for people to come together to enjoy home cooked barbeque, Yummy Bones BBQ serves it up!
Anything and everything on our menu is available for a catered lunch or dinner.
All good things take some time. So give us a call and give us some time to slow smoke your catered meal, give it our special rub, and serve it up.
But please, plan ahead! Because everybody loves Yummy Bones BBQ!
Read more