Page Menu
How To Choose The Right Process For Your Business Product.
There are a number of considerations to take into account when deciding what will work best for your business identity:
1) Quantity
Is your project a limited run, for a very select target market? Is it based on a "limited time only" campaign? Or is this for national or international distribution?
2) Quality
How long does the product need to last in the marketplace? Will it be subjected to UV rays and extreme weather, does it need to be "Marine-Grade", or is it simply for indoor use? (And yes, Empire products have been used in deep space.)
3) Impact
Is your business product simply for legal compliance with current regulations, such as a 'Warning" label? Or is this product symbolic of your company, and your company's quality?
4) Cost
"ROI", or Return On Investment, is a significant consideration. Factors that need to be considered in the light of cost are measurable factors such as product longevity, color, and the overall purpose of the product itself. Factors that are not so easily measured typically have much to do with "Brand" and branding goals. The perceptions of the target market concerning your product and your company are ultimately and irrevocably important.


Contact Us
For Your Product Solution

Empire Processes

and Products
If you can imagine a business product identity, Empire can create it. And the possibilities for that identity are almost limitless.
Digital Printing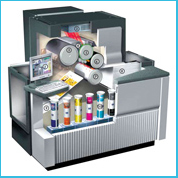 Digital Printing provides remarkable quality for limited product runs. Empire matches the digital press to the specific project and product you need. Our presses include an HP Indigo Press S2000, a Gandi Jeti 1224 UV Flatbed, a Mimaki JV3-160SP, and a Gerber Edge 2. DPI quality ranges from 300 dpi to 2400 dpi. Media types include PVC, vinyls, polyester, polycarbonates, foam board, corrugated board, metals, rigid plastics, paper, Ri-Cling, aircraft film, mylar, and static cling, among others.
"Crystal -Line" Domed Decals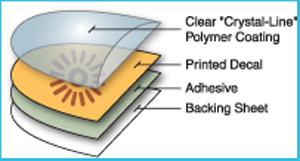 "Crystal-Line Domed Decals" truly stand out. Empire can provide domed decals that have a clear, non-yellowing, polymer coating which enhances your decal's appearance and longevity to maximize your investment. For indoor or outdoor applications, it is a tough, flexible and scratch resistant label. Choose from classic doming, selective doming, colored doming, phosphorescent doming, thermo-chromic doming and fragrance doming. All domed decals can be embossed for a 3 dimensional appearance.
Embossed Decals



Embossed Decals are as functional as they are decorative. Use as nameplates, labels, trademarks, dealer identification, key pads and membership decals. Material choices include lexan, brushed mylar, polycarbonates, polyester and many more.
Flexographic Printing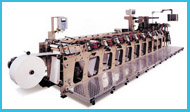 Flexographic Printing is the perfect process for static cling, food products, OEM products, coupons, scratch-offs, bottling labels, shelf talkers, bumper stickers and magnets. Available in 2- sided and in four color printing, Empire's Flexo Printing Process also features back printing, laminating, custom die cutting, perforating, slitting and sheeting, all performed in one continuous operation to save time and money on your project.
4 Color Screen Printing

4 Color Screen Printing mixes four basic colors to produce the same effect as a color photograph. It is often used for labels, decals, P.O.P. (Point Of Purchase), floor graphics, signage, overlays and two way windows. Empire provides you with your choice of UV or conventional inks. We can also provide 4 color screen printing for use with selective textures, screenable adhesives, transparent or colored windows, dead fronts and backlit products.