Quick Links
Classic Doming:
Selective Doming
*Colored Doming
*Phosphorescent Doming
*Thermo-Chromic Doming
*Fragrance Doming
* May require a minimum quantity order
Contact Us For Your Free, No Obligation Quote


"Crystal-Line" Domed Decals
Labels that were once two-dimensional can now stand out! Our "Crystal-Line" Domed Decals have a clear, non-yellowing, polymer coating, which will enhance your decal's appearance. It also creates a tough, flexible and scratch-resistant label that is excellent for indoor and outdoor applications.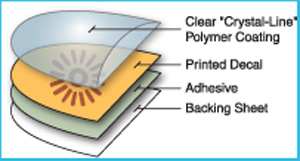 Classic Doming

Standard Thickness: .060" +/- .010"
Standard Hardness: 30-33 Shore D at 77 Degrees F (25C)
Cleanability: Samples can be cleaned easily using an antistatic spray, or using a tissue wiped with ethanol or isopropanol.
Weather Exposure: After 2,000 hours of exposure in ultraviolet light, the decal was not affected; no change in mechanical properties or aesthetic appearance (hardness, shrinkage, or color.)
Impact Resistance: Due to the hardness of the polymer coating, indentations heal completely.

Features
Clear, non-yellowing, polymer coating on top of a decal, giving it a 'lens look' that is tough, flexible, and scratch resistant
Uses a two-component polyurethane for superior quality
Excellent indoor/outdoor application (UV and Salt Spray safe)
"Automotive-grade"
"Marine-grade" for outboard motors
Abrasion resistant dome
Can be embossed, making a 3-dimensional appearance
Will add brilliance to your decorative nameplates and decals
Special shapes can be custom fit to a blueprint or product