eShield™ Attic energy barrier
Save Up to 25% On Your Energy Bills Right Now
Specials:
Free Energy Audit!
Fall, 2010

Contact Clear Choice Energy Solutions and schedule your free energy audit. We'll show you exactly what you can do to save hundreds, even thousands of dollars on your energy costs. Ask about our special pricing on eShield Attic Energy Barrier, and save more money on energy no matter what the season.
Savings News
Window and Door Specials
Fall, 2010

Book now for replacement window and door installation! Clear Choice Energy Solutions has special pricing that will save you money right away, and cut your energy costs today and for years to come. Contact us for more information and your personal appointment.
Clear Choice News
Clear Choice Energy Solutions Now Offers Soft-Lite Windows
August, 2010

Soft-Lite has been building windows since 1934. Clear Choice Energy Solutions is proud to have been chosen by Soft-Lite to represent their windows in Western Wisconsin. Soft-Lite builds one of the most energy efficient and durable windows available today, complete with a lifetime warranty.
Contact Clear Choice Energy Solutions to schedule our personal appointment in your home, and discover more about the beauty, efficiency and durability of Soft-Lite Windows from Clear Choice!
eShield™ Attic Energy Barrier from Clear Choice Energy Solutions
You Can Cut Your Heating And Cooling Bills By 25%, Starting Today!
The transfer of heat energy via empty space, rather than by direct contact or circulating air, is known as an E-value. It is also the main way that homes lose energy. eShield™ is specifically designed to protect your home from radiant heat transfer, and its E-value is unmatched. Combine an eshield™ Barrier with your current insulation, and you have unmatched protection against heat transfer and energy loss.
Here Is The Proof
This is a photo comparison of typical R-19 insulation versus that same typical R-19 insulation combined with a layer of eShield Energy Barrier. An identical heat source was used, and the temperature was determined after 10 minutes and 30 minutes.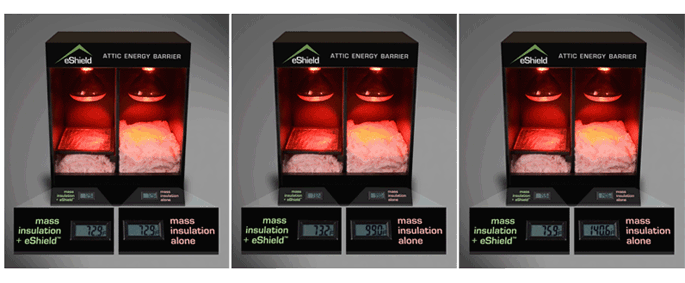 | | START OF TEST | AFTER 10 MINUTES | AFTER 30 MINUTES |
| --- | --- | --- | --- |
| Standard Insulation PLUS eShield™ Barrier: | 729° F | 732° F | 759° F |
| Standard Insulation ONLY: | 729° F | 990° F | 1406° F |
The Bottom Line: You can double the effectiveness of standard insulation with eShield™ Energy Barrier.