Decks, Sunrooms, Porches and more, From Kratt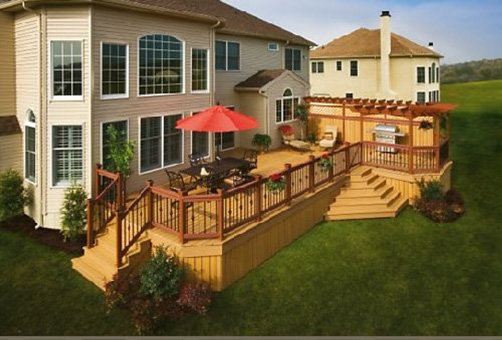 Let's make the outside of your home as perfect as the inside. with Kratt.
From a new deck or porch to a new sunroom, from railings to 4 season rooms, Kratt Lumber is the expert in design and build, from start to finish.
Sunrooms
Decks
Railing Systems
Four Season Rooms
Three Season Rooms
Siding
Porches
Do you already have plans? Bring them in. Need a plan? Then let's make one. Then let's get building, add value, and make life a lot more enjoyable with Kratt.
Expand your lifestyle with a three or four season room, or sunroom. Add that deck for entertaining or just relaxing. Add those railings that create a personal and private feel. Let's give the whole house a new feel with new siding and shutters from Kratt.
Let's make this house a home. Your home, built by Kratt, your local supplier.

A Few OF the Exterior Products From Kratt

All of our treated products are Wolmanized Products, assuring you of the longest lasting, highest integrity treated luimber in the business.
Kratt Kustom Installation Makes Life Easy.
Kratt Kustom Installation makes life easy. Our installers and craftsmen will renovate, remodel, and improve your home to your satisfaction. We would be pleased to provide you with an estimate for Kratt Kustom Installation. Just contact us, and we'll do the rest.
Contact Us